W B Yeats and Bedford Park
First Garden Suburb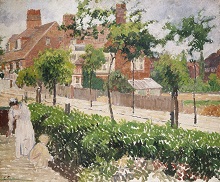 Irish lawyer-turned-painter John Butler Yeats's 1879 decision to move his family to Bedford Park — a move key to WBY's development as poet & dramatist — combined a desire to find a more aesthetically-pleasing way of life than their current inner-London world of railways, traffic & steep Victorian houses, with a shrewd career move: with the new District Railway (Bedford Park is by Turnham Green station) they could live pleasantly near the river in semi-rural Chiswick, while remaining within easy reach of his potential West-End & Westminster portrait-painting clients.
More significantly, in moving to a suburb designed by Jonathan Carr, (a Dublin-born businessman from an artistic family), he would find himself in the company of many of Carr's gallery-owning brother's painters, along with writers, publishers, actors, set-designers, & social & political thinkers.
He would inevitably enjoy a high-level of social contact with fellow residents as the community had been created with artists & aesthetes in mind: architect-designed Queen-Anne-style houses; winding tree-lined avenues; a sense of separateness from London's bustle; & unique attention to work-life balance incorporating, in the original plan, inn (named after Chaucer's Canterbury Tales tavern), stores block, church, community centre (The Bedford Park Club, where residents gathered for parties, pageants & political discourse), tennis courts, school of art, & even its own community newspaper!
Getting to Know Bedford Park
The Bedford Park Society is a key source of information about the suburb's history & works today to preserve the character of the area & maintain & improve its amenities in the interests of the local community. The area's two most significant annual arts-&-culture events are June's Bedford Park Festival with its famous Green Day & an annual poetry event (organised by Anne-Marie Fyfe of Coffee-House Poetry at the Troubadour) … & September's Chiswick Book Festival, both festivals centred on St. Michael and All Angels Church by Turnham Green Tube at the entrance to Bedford Park. Chiswick Timeline has had a powerful impact on the wider Chiswick area, including Bedford Park, in terms of transforming public spaces to celebrate the area's hsitory and its unique role as a focus for artists & writers. And the book to get hold of is Bedford Park: The First Garden Suburb by T. Affleck Greeves (3rd edition) with contributions from Peter Murray & new photography by Ellen Rooney.
Printing & Publishing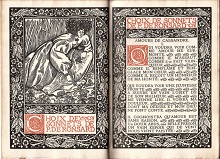 Chiswick & Bedford Park were central to poetry publishing with an emphasis on fine, small press publications including Withingham's Chiswick Press who published Wm. Morris's Chaucer &, later, the poetry of Rabindranath Tagore, Morris's own Kelmscott Press, the nearby Doves Press on Upper Mall, &in Bedford Park, the Webbs' Caradoc Press, Lucien & Esther Pissarro's Eragny Press which shared its font with Charles Shannon & Charles Rickett's Vale Press, publisher of The Dial, & Elkin Matthews's Bodley Head which published The Yellow Book.
Had I the Heavens' Embroidered Cloths
Had I the heavens' embroidered cloths,
Enwrought with golden and silver light,
The blue and the dim and the dark cloths
Of night and light and the half–light,
I would spread the cloths under your feet:
But I, being poor, have only my dreams;
I have spread my dreams under your feet;
Tread softly because you tread on my dreams.
Bedford Park People
First-garden-suburb residents included founder Jonathan Carr, architects Maurice B Adams & CFA Voysey, & the talented Yeats family: that's — in addition to poet WBY & his father John Butler Yeats, brother — Ireland's greatest 20c painter — Jack B., & sisters, Susan (Lily), embroiderer, who worked with Wm. Morris's daughter May, & painter & educator Elizabeth (Lolly), the two sisters going on to found Cuala Industries & Dun Emer Press
Other local notables included:
John Todhunter, Irish poet/dramatist whose Bedford Park Club theatricals inspired

WBY

's Irish National Theatre
Ukrainian anarchist, & editor of Free Russia,Sergius Stepniak,
Moncure Daniel Conway, Virginian abolitionist, follower of Transcendentalists Emerson & Thoreau, & Walt Whitman's London literary agent
actor William Terriss
Henrietta Paget & Henry Marriott Paget, painters with J Comyns Carr's Grosvernor Gallery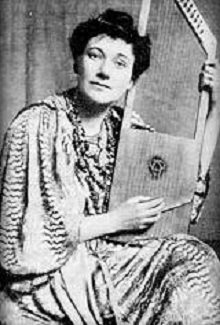 Henrietta Paget's sister, Florence Farr, one of George Bernard Shaw's leading ladies, she inspired & encouraged

WBY

RAM

Stevenson, art critic, cousin of Robert Louis Stevenson
leading playwright Arthur Wing Pinero who collaborated with Arthur Sullivan & Jonathan Carr's brother J Comyns Carr
Frederick York Powell, Oxford historian, expert on Stéphane Mallarmé & Icelandic folklore, encouraging

WBY

's interest in both symbolist poetry & Irish folklore
Elkin Matthews, publisher of The Yellow Book, also published the work of

WBY

's group, The Rhymers' Club & went on to found The Bodley Head
& painters including the Pagets, above, Lucien Pissarro, E Blair Leighton & TM Rooke who worked with Edward Burne-Jones & John Ruskin.
Also nearby… Wm Morris whose theories on art & crafts were central to Bedford Park's existence & in whose creative industries WBY's sister Lily worked, & poet/journalist WE Henley whose soirées WBY attended. Frequent visitors included Robert Louis Stevenson, poet and illustartor Edwin Ellis who collaborated with WBY on the works of William Blake, author GK Chesterton (who married Bedford Park resident Frances Blogg & whose novel The Man Who Was Thursday is set in Bedford Park), WBY's great unrequited love, Maud Gonne, painter Camille Pissarro, Fenian John O'Leary, members of London's Irish Literary Society, & many, many more from the world of arts & letters.